Bill Watts, Portland, October 2004:


Mike,
Here are some pictures of the trailer and the trailer with the Samurais. As you can see, everything worked out just fine. The trailer pulls great. I just have to remember to make wide turns. The truck and trailer make for a pretty long rig.

Thanks again,
Bill Watts



Marvin R. Wallace, Portland, September 2003:
Mike,
Having purchased one of your well-built 5x10 trailers just before we moved, I wanted to give you feedback on it. We moved to Alabama and logged up 2642 miles in doing so. Towing the loaded trailer behind a rental truck was a dream. We wouldn't have known it was there, it trailed so well. I have used it several times behind my pickup also and it tracks beautifully. It was an investment well worth the cost. Many thanks to you and your superb skills.

Sincerely,
Marvin Wallace (former Oregonian)
Larry Harrison, Portland, May 2003:
Hi Mike,
Just a quick note about the trailer I picked up from you yesterday. I have towed a lot of trailers from small to 30' in length and I was pleasantly impressed with the way yours towed. I had to keep looking to make sure it was back there.
No hopping or wandering at all. The whole buying experience with you was great!! Your quality is second to none. I will highly recommend you to anyone I talk to.

Sincerely yours,
Larry Harrison
Bob White, Albuquerque, NM, January 2003:
I Drove 1300 Miles to Buy My Trailer From M. S. Metals!
I needed a trailer to move my airplane from Austin, TX to Albuquerque, NM. A friend of mine had purchased a trailer from M. S. and told me how great it was. I took the same sketch he had taken to M. S. to several trailer builders in my area. The prices they quoted were from $500 to $1200 higher than he had paid M. S.

It cost quite a bit of money to travel all the way from Albuquerque to Portland to pick up the trailer, but it was still cheaper than buying a trailer here. Through a happy coincidence, another friend here in Albuquerque had ordered an airplane kit from Van's Aircraft in the Portland area, and he needed to ship it back at the same time I was picking up my trailer. We split expenses. He saved a bunch on shipping, it didn't cost me that much to get back, and he helped with the driving!

The trailer has now hauled two airplanes over a total distance of 2000 miles and has performed flawlessly. It was perfectly stable in the 40 MPH winds I experienced on my return trip from Austin.

Bob White,
A highly satisfied customer.


Loading my airplane onto the trailer.

Trailer with kit from Van's Aircraft
Holger Stephan, Lake Oswego, December, 15, 2001: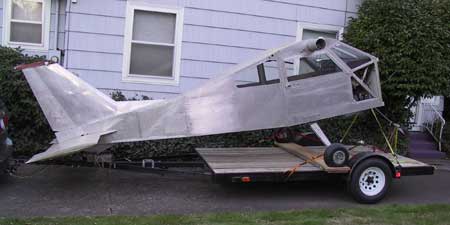 I ordered my trailer on Sunday, Dec. 9th. I needed the trailer to haul an aircraft on the following weekend. I couldn't quite believe Mike that he would be able to finish this custom shaped trailer in time. But the following Saturday I was able to pick up my brand new trailer and do the plane transport. Additionally, I was amazed by the quality of this trailer, which was confirmed by my uncle, a professional welder.